Brag Tags are BACK!
Our Brag Tag program starts September 8, 2020 and ends May 28, 2021. The idea is simple. Pick a Brag Tag keychain that you like and earn it by READING!!
Choose to read at any level below as long as you read the required amount of books.
Picture books: 12 books
Easy Readers: 6 books
Graphic Novels or Juvenile Ficton: 3 books
Keep track of the books you read and then turn in your log to recieve your Brag Tag!
Check out all the keychains below...Collect them all!!
Ages 3-14.
SIGN UP HERE or come into get a paper reading log by visiting us at the Ask Me Desk in Youth Services.
Keep track of the books you read and when you're done, either bring us the completed paper reading log or enter them into our online Brag Tag Reading Log. Then go back and sign up to earn another Brag Tag!
**As of 1/11/2021, we are out of Reading Ninja and Reading Rocks. All other brag tags are available!**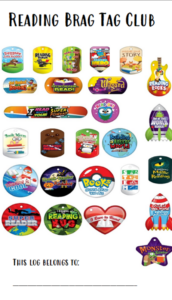 To ensure our programs are accessible to all, please let us know if you need any accommodations.