Check out our Brag Tag board and earn your favorites!
Our Brag Tag program runs each year from the day after Labor Day through Memorial Day. We are excited to bring this program back again. This year we will be running it through our Beanstack software. If you have not yet downloaded Beanstack, simply scan the QR code below or go to frgml.beanstack.org to get started. If you already have an account created from Summer Reading, you just need to join the Brag Tags challenge!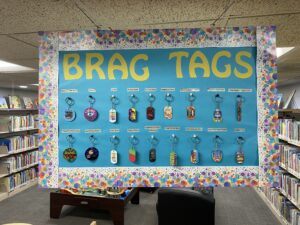 The idea is simple. Pick a Brag Tag keychain that you like and earn it by READING!!
Choose to read at any level below as long as you read the required amount of books.
Picture books & Easy Readers: 8 books
Graphic Novels or Juvenile Ficton: 3 books
Keep track of the books you read in Beanstack and then come into pick up your Brag Tag! We will have all Brag Tags displayed in the Youth Department if you'd like to see them up close. Collect them all!!
Ages 3-14.
To ensure our programs are accessible to all, please let us know if you need any accommodations.